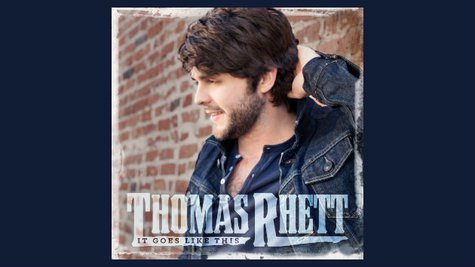 Thomas Rhett already had a ton of music business experience when he wrote and recorded his debut album, It Goes Like This . He's the son of '90s hitmaker Rhett Akins , so he's been around the album-making process his entire life. On top of that, Thomas is the hit songwriter behind Florida Georgia Line 's "Round Here" and Jason Aldean 's "1994." Now that Thomas has his own big hit with "It Goes Like This," he's determined to make an even bigger impact on the country format with the release of his first album this week.
"I hope that there are songs on the record that country music hasn't even tapped into yet," Thomas tells ABC News Radio. "It would be cool to kind of be the start of a different wave. It would be cool to continue this train we have going and take it farther than anyone else has."
While those goals may sound lofty, Thomas's album is anything but heady. This music is designed to make fans get up and dance or maybe get up the courage to ask out that guy or girl they've had their eye on. More importantly, Thomas hopes this music convinces people to buy a ticket to one of his concerts.
He says, "I just want it to be something where people hear it and they know the words and they want to come to my concert and sing every word to every song."

It Goes Like This also features Thomas's earlier top 20 hits, "Somethin' to Do with My Hands" and "Beer with Jesus." Check out ThomasRhett.com to see where he's playing next.
Copyright 2013 ABC News Radio