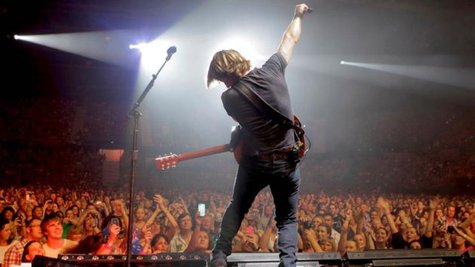 Keith Urban has signed on to perform on the NFL Kickoff 2013 pregame show Thursday night in Baltimore. He'll be performing from a floating stage in Baltimore's Inner Harbor just before the defending Super Bowl Champion Baltimore Ravens take on the Denver Broncos in Denver. Fans can tune in to the pregame show starting at 7:30 p.m. ET on NBC and the NFL Network.
Keith has performed at several NFL events in the past few years, including an appearance at the Super Bowl pre-game festivities in 2011. He didn't know much about the sport when he moved to Nashville from Australia more than 20 years ago. That all changed once Nashville got its own NFL team, the Tennessee Titans.
"Nic and I go to a few games a season here in Nashville," Keith tells ABC News Radio. "Yeah, I mean, I've fallen in love with American football over the years. It's a great game particularly to go and be a part of."
Keith will be performing songs from his brand-new album, Fuse , on Thursday night. The album comes out Tuesday, and Keith is set to perform on NBC's Today that morning.
Copyright 2013 ABC News Radio