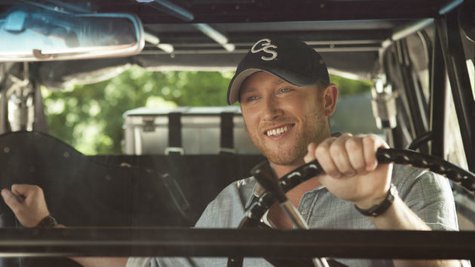 Cole Swindell got his start in the music business selling t-shirts for Luke Bryan , so he's always thinking about coming up with merchandise ideas when writing hit songs like "Chillin' It."
Cole tells ABC News Radio, "That's how I've always written songs, is you see stuff like, 'Would that sell on a t-shirt?' And if it would, I write it."
Cole is also coming up with a personal spin on the G.S. hat he wears. Those letters stand for his alma mater, Georgia Southern University, but a lot of fans think it's C.S. for his initials. That's why he's ordering up C.S. hats for his merch table.
Says Cole, "I can't wait to have my own. You know, we've got merch rolling now, but it's gonna be cool to have the hats that look like this, I think."
Cole is glad to shine a spotlight on Georgia Southern since that's where he started performing. He adds, "Those bars there and that campus, everything about it, I wouldn't be here without Georgia Southern, so it's cool that I get to wear this hat."
Cole Swindell's self-titled debut album is available now.
Copyright 2014 ABC News Radio