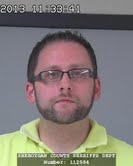 SHEBOYGAN, WI (WHBL) - The former technology coordinator for the Random Lake School District will spend one year in prison for stealing hundreds of tablets from the district. Judge James Bolgert sentenced 33 year old Mark Ustby of Milwaukee Friday for two counts of theft.
It was discovered just before the start of the current school year that Ustby had taken around 600 tablets and laptops from the district, worth around 200-thousand dollars, over a year's time to sell on Craigslist. Prior to sentencing, Ustby told the court that he sold the tablelts to cover the overspending he did in his life.
In additional to the prison time, Ustby will serve one year extended supervision and pay the district restitution for legal costs.