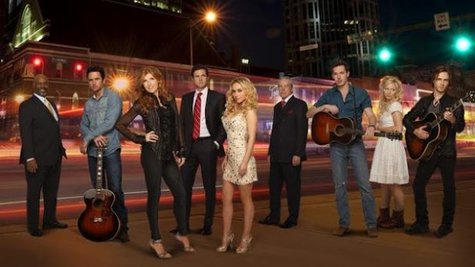 Country music's hottest power couple decided to go public on Wednesday night's Nashville . After a party celebrating their #1 hit duet, "Ball and Chain," superstars Rayna Jaymes and Luke Wheeler confirmed their love for each other and accepted the fact they'd probably have a celebrity couple name like "Ruke" or "Layna."
Exploring this superstar couple dynamic has been in the works for awhile according to Connie Britton, who plays Rayna on the show.
She tells ABC News Radio, "I actually had conversations about it with the writers this summer, and we were talking about it this emerging, almost like, you know, 'Brangelina' kind of relationship, which I think is so interesting to people and happens all the time in these industries, show business industries."
Country music is known for its superstar couples like Tim McGraw and Faith Hill or Blake Shelton and Miranda Lambert . Don't expect the union between Luke and Rayna to create beautiful music forever, though.
Connie adds, "I think it's going to be fun to watch that and then also to see how even within the framework of two big stars, they have very different world views and very different perspectives on things."

"Ball and Chain" is on the Nashville Season 2 Volume 1 soundtrack, available now.
A few real-life stars showed up on Nashville this week, including Jay DeMarcus of Rascal Flatts . He bumped into Gunnar Scott at an office on Music Row, and the two got together later in the day to write songs.
Gunnar's ex-girlfriend, Scarlett, also shared the stage with Zac Brown Band for a performance of their hit, "Free." She's been on a non-stop promotional tour trying to launch her country career, and the stress of it all overwhelmed Scarlett when she ran into Gunnar at the #1 party for "Ball and Chain." Rayna later helped talk her off the ledge, but she didn't mince words, telling Scarlett about the hard work that goes into being a country star.
Juliette Barnes continued feeling the fallout from the doctored video that made it look like she said "There is no God" on last week's episode. Most of her concerts were canceled due to the backlash, and her record label president went so far as to call her "uneducated" and "mildly-talented." After drowning her sorrows in a bottle, Juliette confessed to her friend Avery Barkley she no longer believed in her talent. He convinced her to don a disguise and go downtown to sing on the street for tips. People gathered around to hear the disguised Juliette sing "Everything I'll Ever Need." Despite their sexual tension, Juliette turned down Avery's offer to get a beer with their tip money.
Elsewhere in Nashville, Deacon Claybourne signed a new record deal. Deacon's lawyer girlfriend got in hot water with Mayor Teddy Conrad for defending the man who shot and killed his wife, Peggy. After some investigation, Teddy discovered a link between the killer and his ex father-in-law, Rayna's dad Lamar Wyatt . Lamar suspects Teddy of giving the feds the information to put him in jail, but the blame really belongs to Lamar's other daughter, Tandy .
Nashville returns next Wednesday at 10 p.m. ET on ABC.
Copyright 2014 ABC News Radio