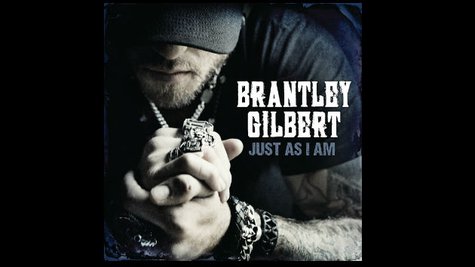 Brantley Gilbert 's new album, Just as I Am , comes out May 19 featuring the debut hit, "Bottoms Up." Fans recently unlocked the album cover at Brantley's website by using the hashtag #JustAsIAm on Facebook and Twitter. The cover photo shows Brantley in a contemplative stance, with his head bowed and hands folded.
Brantley had a hand in writing every song on Just As I Am , which is his first new album in more than four years. "I have always said that each of my albums has told a story… my story, and this album is no different," Brantley says. "This one picks up where Halfway to Heaven left off."
He adds, "I have gone through a lot the past few years… a lot of highs and lows and all of that is reflected in this project. My fans know I'm a straight-shooter, so I didn't leave anything out."
A deluxe edition of Just as I Am will be released exclusively at Walmart, featuring the bonus tracks, "G.R.I.T.S.," "Read Me My Rights," and "Grown Ass Man."
Here's the Just as I Am track listing:
"If You Want a Bad Boy"
"17 Again"
"Bottoms Up"
"That Was Us"
"I'm Gone"
"My Baby's Guns N' Roses"
"Lights of My Hometown"
"One Hell of an Amen"
"Small Town Throwdown"
"Let It Ride"
"My Faith in You"
Copyright 2014 ABC News Radio