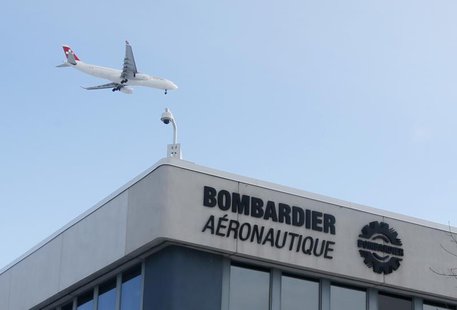 (Reuters) - Canada's Bombardier Inc reported lower-than-expected quarterly revenue as it earned less from the sale of its aircraft.
Bombardier, which has poured billions of dollars into aerospace programs like the CSeries, said revenue in the division fell 9 percent to $2.1 billion in the first quarter.
Total revenue rose about 2 percent to $4.35 billion, but fell short of the average analyst estimate of $4.58 billion, according to Thomson Reuters I/B/E/S.
Montreal-based Bombardier, which also makes trains, said revenue rose nearly 10 percent to $2.3 billion in the transportation business.
The company delivered a total of 56 aircraft in the quarter, compared to 53 a year earlier.
Bombardier said it was making progress with the CSeries program and the fourth flight test vehicle was expected to complete its first flight in the coming weeks.
The costly CSeries could be Bombardier's ticket into the big leagues, with its CS100 and CS300 models suited to compete with the smaller planes made by rival Boeing Co and Airbus Group .
Bombardier Aerospace's backlog totaled $38.5 billion, higher than the $37.3 billion at the end of December. Order backlog in the transportation business totaled $38.4 billion, up from $32.4 billion at the end of December.
The company's net income fell to $115 million, or 6 cents per share, in the quarter ended March 31, from $148 million, or 8 cents per share, a year earlier.
Excluding one-time items, Bombardier earned 8 cents per share, in line with the average analyst estimate.
(Reporting by Solarina Ho and Narottam Medhora; Editing by Sriraj Kalluvila)